VISIT. STAY. EXPLORE.
Retreat to our coffee farm with family, friends, or groups for a day visit, overnight camping, or an adventurous stay in our Treehouse.
Thank you for your interest in visiting Spirit Mountain
We have several options for you to choose from for your visit:
Spirit Mountain is our Happy Place and we love sharing it with our friends, both new and old, so the DAY PASS is now FREE! Come and explore the farm and experience what we believe is the most beautiful coffee farm in the entire Caribbean!
For a guided tour of the coffee farm, price is RD$1000.  Contact Julio (829.799.9770) to coordinate a tour.
CAMPING
Overnight camping fees are US$10/person.
Group fees for overnight stays available.
MOUNTAIN BIKING
Access to Tri Mountain MTB Park costs RD$300 for a day pass. We encourage all of our riders to be safe, help keep the trails great, and participate in community trail building days. We have options for beginners to experts.
TREEHOUSE
Nightly fee is US$100. Minimum two night stay. Sleeps two persons.
We're here to help you plan your adventure. Please note there are separate reservation methods for camping and for the tree house.
We are excited for you to join us at Spirit Mountain!
CAMPING RESERVATIONS
For Groups up to 8 persons, click here.
For Groups up to 16 persons, click here.
For Groups of 16+ contact Krista via WhatsApp:  903.343.1780 (English/Spanish) 
NO RESERVATIONS ARE CONFIRMED UNTIL PAYMENT IN FULL HAS BEEN RECEIVED.
All payments should be submitted before arriving:
Payments will be received via deposit to Banco Popular Account # 812501385 Estancia Natura SRC, Chad Wallace (RNC: 131850235 Estancia Natura SRL)
TREEHOUSE RESERVATIONS
Reserve your stay at The Treehouse through this AirBnB link.
An optional lunch can be provided at a price of RD$400/person (with 24-hour notice). Typical Plate of the Day:  chicken or pork, rice and beans, salad and fruit, with a freshly brewed cup of Spirit Mountain coffee.
About the neighborhood
Spirit Mountain Coffee Plantation is an organic coffee farm that we purchased in 2003 with a dear friend, Jeff Loftsgaarden. It is in a tropical area, so you can expect rain and warm weather year round. Endemic and migratory birds make the coffee canopy their home. Bring your binoculars to see how many varieties of birds you can spot! Spirit Mountain is an active coffee farm and our harvest is October through May. You will likely see our staff in action taking care of the coffee crop.
Getting around
A 4×4 vehicle is STRONGLY recommended. We receive a large amount of rain, which can make the roads difficult to navigate. There are a number of hiking trails all over the farm to enjoy. If you are new to the Dominican Republic, Spirit Mountain is located about 2 hours from Santiago de los Caballeros (which has an international airport).
How to get there
Finding Spirit Mountain can be a challenge! Use Google Maps to find us.  
Follow the highway from Jarabacoa to Manabao. Once you pass the public school in Manabao, take the main dirt road to the right that leads you to Angostura. The creek will be on your left as you drive up towards the farm. (Keep looking for brown and white signs that point to Spirit Mountain.) Continue for 3 kilometers or so. The road will get continuously more 4×4 as you progress up the road. Cross over the bridge that goes over the creek and continue up the 4×4 road to the entrance of the coffee farm. Our property managers, Deivy and Rosa, live in the house just before the entrance. Stop and check in with them before continuing onto the property. Once inside the coffee farm, follow the main road up to the right to the campsite. If it has been raining, you will need a 4×4 vehicle to get in and out of the campsite.
Airport
Cibao International Airport: 40.4 miles from Spirit Mountain
With questions about your visit, contact:
Julio 829.799.9770 (Spanish only) – Lives in Jarabacoa
*Rosa And Delvie live at the entrance of Spirit Mountain and will be available to orient you when you arrive to the farm
Chad Wallace 720.560.1719 (English/Spanish)
Krista Wallace 903.343.1780 (English/Spanish)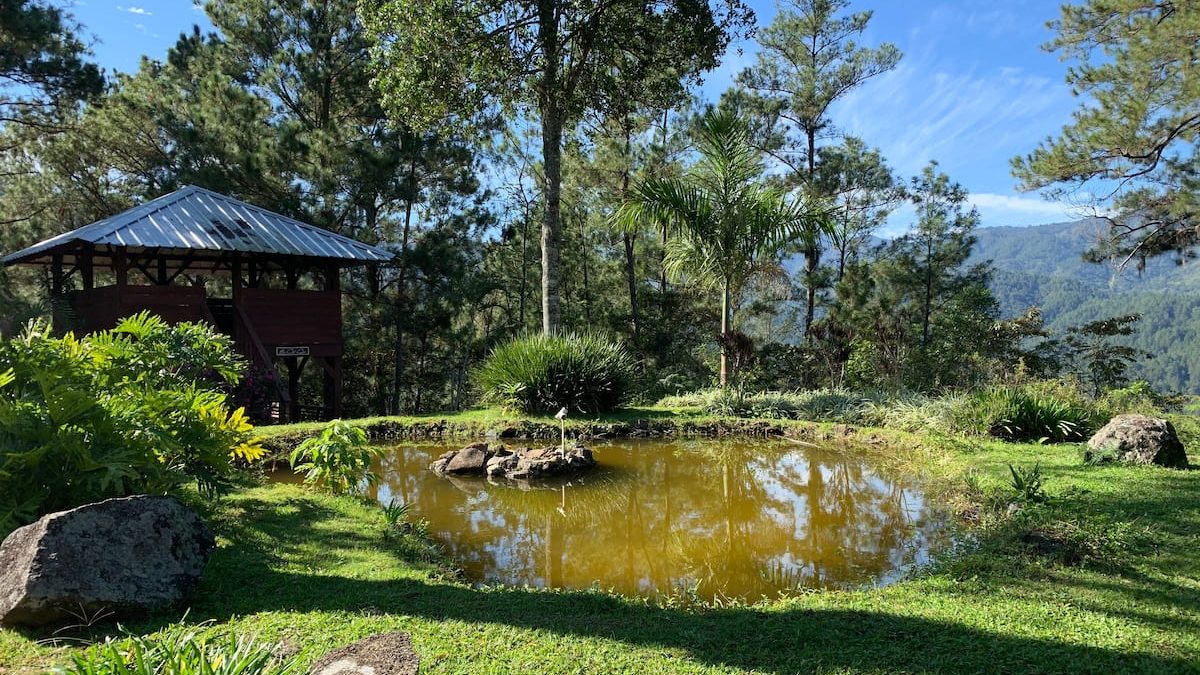 VISITING THE CAMPSITE
The campsite is located in the middle of the coffee farm, which is accessible with a 4×4 vehicle. Potable water is available from the outdoor kitchen. The campsite has no electricity. Firewood is available upon request.
This is a campsite, meaning you'll be responsible for bringing your own sleeping bag, sleeping pad, flashlight, towel, and toilet paper.
Two shelters are available at the campsite in case you do not have a tent. 
A cold water outdoor shower and latrine are also located at the campsite. 
Vehicles are NOT allowed in the campsite area.  Vehicles can be parked on the road next to the campsite. 
Outdoor Kitchen
There are no stores or restaurants nearby, so be sure to bring plenty of food for your stay.
The outdoor kitchen is available to prep food.  Guests will also need to bring their own propane tank and kitchen supplies (pots and pans, plates, utensils, etc.)
There is a covered dining area above the kitchen.
Guests are expected to remove all trash from the campsite when they leave.
Simple meals to prepare while camping:

Oatmeal and hot chocolate (only hot water is needed!)
Instant coffee
Pancakes and fruit
Sandwiches with chips and salsa
Pasta with pesto, spaghetti sauce, or canned tuna and cheese
Foil pack dinner: (best to prepare and bring ready to cook at the campsite).  Ingredients: Pre-cooked sausage, pre-cooked potatoes,  chopped onion, peppers, zucchini, salt, pepper, garlic, red pepper. Prepare a hot fire and allow to burn down into coals.  Using two layers of aluminum foil, place ingredients in the foil, add oil and seasonings, roll up carefully and place in the hot coals.  Allow to cook for 15-30 minutes.  
Planning to camp for several days?  Try

 

vegan recipes

 

(no dairy or meat).  No refrigeration is necessary for ingredients!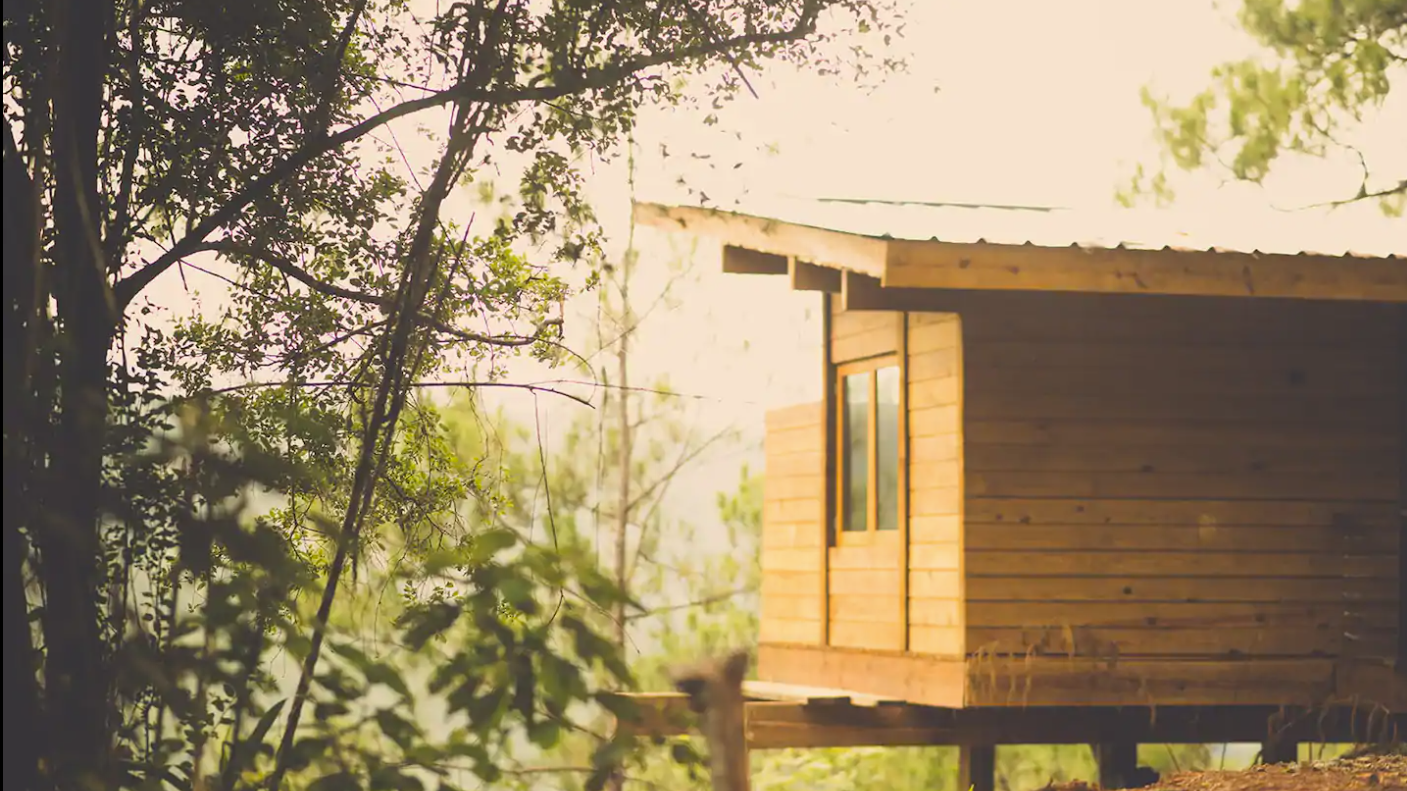 VISITING THE TREE HOUSE
A true luxury camping experience, with hot water, solar powered electricity, full bathroom, outdoor shower, and a comfortable pillow top bed. Price is US$100/night, minimum two night stay. Sleeps two persons. Complimentary breakfast and bag of fresh roasted Spirit Mountain coffee with your stay. Treehouse sits 30 ft above the ground in the coffee canopy, surrounded by endemic and migratory birds. 
An optional lunch can be provided at a price of RD$400/person (with 24-hour notice). Typical Plate of the Day:  chicken or pork, rice and beans, salad and fruit, with a freshly brewed cup of Spirit Mountain coffee.
Items to bring for your Treehouse experience: 

Ice for the cooler (a cooler is provided, but ice is not provided)
A flashlight for walking around outside the Treehouse at night
An old towel for muddy feet
An extra blanket for sleeping
Easy to prepare snacks and meals for your stay.  (An optional lunch can be provided at RD$400/person upon request)
Our Story
In 2003, Chad Wallace and Jeff Loftsgaarden purchased a 350 acre coffee plantation that had been in the Lopez family since the early 1970's.  Since then, the Wallace family, under Chad's leadership, has taken a very hands on approach to creating a unique agro-forestry project with a vibrant focus on educational tourism, all revolving around coffee and set up to benefit educational reform.