As a youngster, camping was always something I looked forward to. For one thing, I like fire. I was always the kid volunteering to gather wood and build what would be, in my 'not so humble' opinion, the best fire in camp! Most of us, if we're lucky have memories of campfires, marshmallows, graham crackers and Hershey Chocolate bars. There is something magical about being in the wilderness, away from the comforts of home, far from the monotony of our everyday, normal lives. Even now, I always anticipate the arrival of night. Campfires come to life as the sun sets. When the stars emerge in their full glory, and, if you are lucky enough to be far from civilization, the Milky-Way can be seen. I look for a patch of grass, where I can lay on the ground and gaze into the vast universe above.
I was asked this week by a colleague and good friend what I was hoping to accomplish, philosophically, with the new A-Frames we plan to build at Spirit Mountain.  I quickly pulled my wife into the conversation, and she didn't miss a beat and chimed in….we want to create that whole "home away from home' experience.   We both just let that phrase sink in for a minute.  "Yeah", I responded in affirmation, we want the A Frame to symbolize the recreation of that magical place of our childhoods….but better.  It's not home, but has all the comforts of home.  It's small but not too small.  It's cozy, in that campy kind of way that makes you want to snuggle up in your favorite blanket in front of the fire.  We want to re-imagine the vacation cabin in the woods.  Less is more, keeping life simple so our stuff doesn't get in the way of building memories.  The essence of the A Frame is all you need, and nothing more.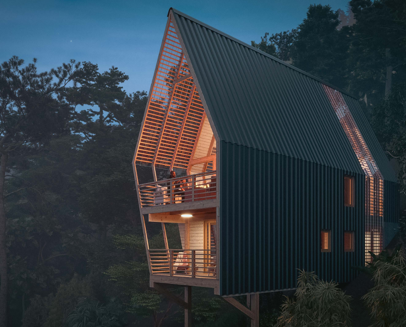 The La Estancia Eco Lodge (Link to Invest page) add a Scandinavian flair to the traditional A Frame design. We've optimized the size and amenity package with the guest experience in mind. The centerpiece of the A Frame is the large front porch with plenty of room for friends to gather around the integrated fire pit. The additional sleeping loft above the bathroom in both models is perfect for the kids or can be utilized as a guest room. The kitchen, although small, has been designed with the foodie in mind. The larger model has two rooms and a full bathroom in the basement. The main bedroom includes a cozy porch with mountain views. The second bedroom can also be used as a home office for those working remotely. There is an enclosed mechanical room and owner's closet in the basement where personal items can be locked up if renting your unit.
Unit Type A: 688SF Estimated Sale Price $115,000USD
Similar size and layout as Type A – Includes a loft above the private bath on main level with space for two twin beds or a full bed. Bedroom area on main level with fully equipped kitchenette. Front terrace with fire pit. (Overall footprint of main level: 16' x 28', 16' x 9' terrace and 12' x 8' loft)
Unit Type B: 1,024SF Estimated Sale Price $197,000USD
Unit Type B is significantly larger than Unit Type A and includes a full kitchen on main level and the loft above bathroom and kitchen area. Full basement level with 2 bedrooms, second bathroom and lockable owner's closet for storage and mechanical equipment. Front terrace on main level with fire pit. Smaller terrace in basement. (Overall footprint of main level: 18' x 32', 18' x 9' terrace, 13' x 8' loft and 12' x 23' basement)
(Note: A Frame prices subject to change)
Off-Grid living has been the reality for many living around the globe for millennia, so this is not a new idea. For most of us, we live within the more developed world, and this is a new concept, which requires a slightly different approach to how we do life on a day to day basis. As the environment changes, we are becoming more acutely aware of the need to live more sustainably. Our community, Estancia Natura, is strategically planned to minimize the human impact on what has become a pristine environment, with many springs, dense forests and native habitat for endemic wildlife. The 135 hectares that make up Spirit Mountain will continue to be managed as an ecological reserve and farm, with only a very small percentage of the property being developed, making this a one-of-a-kind destination. Potable water comes from the many springs located throughout the farm. Each house on the farm will be equipped with its own PV (Photo Voltaic) power system. Units will be equipped with water meters allowing the owners to keep track of their own water consumption. As a community, we desire to steward our environment, while living in a way that honors our neighbors.
One of the many benefits of building your 'home away from home' at Spirit Mountain is the Return on Investment, especially for those looking to leverage this asset to generate income. Our in-house hospitality team will manage every aspect of your unit, removing all the normal pain points to owning a second home. Spirit Mountain has partnered with international hospitality groups, which maximizes exposure and increases the ROI. The La Estancia Eco Lodge is a condominium product, so owners don't have to manage exterior spaces. Our Team will take care of all of this for you, as part of the monthly HOA fee.
We are finalizing the environmental permitting process and plan to break ground later this fall on the first A Frames. Kathryn and I will be hosting an Open House (Link to RSVP Form) at the farm on September 9th and 10th and we will be offering a special deal for those who join us.
So, get your marshmallows and Hershey's chocolate ready and we will see you soon!
Un Fuerte Abrazo,
Chad